Segunda-feira, 30 de Novembro de 2009
INTERNATIONAL VISITORS
Hello, international visitor!
For the first time we at MundoMais are greeting all of our international users that little by little have been visiting us
por Redação MundoMais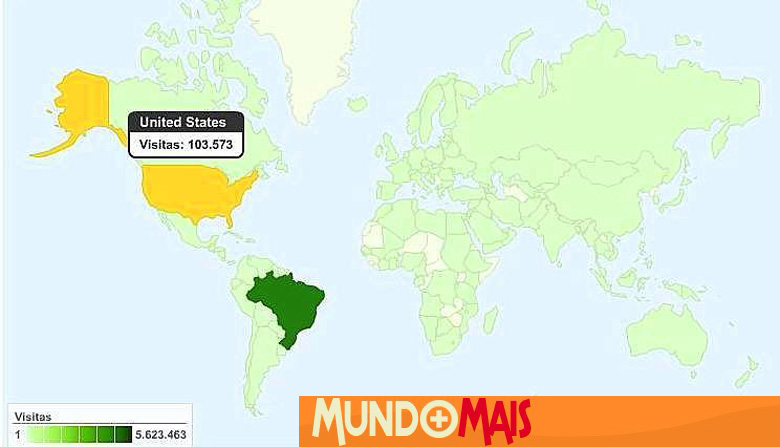 All countries marked in green have visited MundoMais; Marked in yellow, USA is from where comes the largest number of visitors
FROM BRAZIL – For the first time we at MundoMais are greeting all of our international users that little by little have been visiting us. We want to thank you and say that you are welcome and we are proud to catch your attention from so far away.
Top 10 countries that visit us
1) USA
2) Portugal
3) Italy
4) Spain
5) France
6) Mexico
7) Germany
8) UK
9) Canada
10) Argentina
Besides these, 150 other countries have reached us in the last two months.
Because Portuguese is not a widely spoken language across the world (though similar to Spanish), you may not understand much of our news reports and special articles.
On the other hand, there is this international language called sex and many international users have written to us to congratulate for our beautiful brazilian models posted on our section entitled "Garoto Mais+" (It would be "Boy Plus+" in English) and most recently our wonderful model Tallen.
We are aware of the fact that there is this fetish for latino types and we at MundoMais are trying to get more and more beautiful men that best represent the beauty and sensuality of Brazilian guys.
This post is also to tell you that we already have a PayPal account to receive international payments for the subscription of our website, as we have received e-mails from guys all over the world who are trying to pay, but "PagSeguro" does not accept credit cards that are not issued here in Brazil.
To become an international member is very simple. You must just use your e-mail as your login account and choose a password. Use your PayPal account to pay US$ 19.90 for a monthly subscription and your access will be instantly open. Attention: do not send money before writing to us. You can write to contato@mundomais.com.br to get further information.
Finally, we want to hear from you! Leave a message here or e-mail us. We want to know what direction we should take, maybe translate some pages into English and/or Spanish. Well, you will tell us! Once again thank you for visiting us, foreigns or Brazilians living abroad and sorry for the English!
MundoMais Team